REPORTS
WSJ: Russia's Deepening Belarus Ties Squeeze Western-Backed Ukraine
Russia's deepening integration with Belarus is presenting a fresh military threat to Western-backed Ukraine, which Moscow is trying to draw back into its orbit.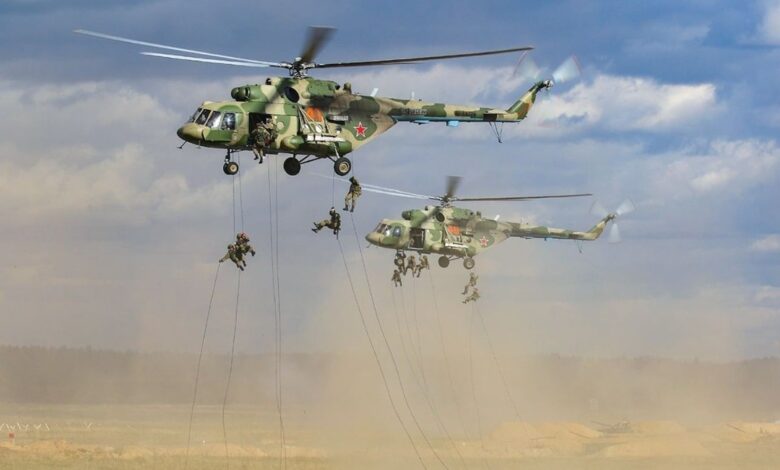 Russia has been conducting large joint military exercises with Belarus, whose authoritarian leader, Alexander Lukashenko, weakened by mass street protests and Western sanctions, has ceded much political and economic control of his country to Moscow. The exercises, which Russia says are defensive in nature and involve some 200,000 troops, showcased closer military ties on Ukraine's northern flank.
Russia in the spring sent tens of thousands of troops to Ukraine's eastern and southern borders, sparking fears of an invasion before it withdrew some. Russia annexed Ukraine's southern Crimea peninsula in 2014, has blocked access to parts of the Black Sea and Sea of Azov, and controls insurgents in eastern Ukraine waging a war that has killed more than 14,000.
The increasing Russian pressure is a test for President Biden, who was the Obama administration's point man for Ukraine but faced criticism over his son Hunter's business dealings there.
Ukrainian President Volodymyr Zelensky said last week that all-out war with Russia could be possible. But Western and Ukrainian officials say Moscow's strategy is subtler: to surround and squeeze Ukraine militarily and economically until it submits.
There is no point in invading now—it's too high-risk," said a Ukrainian official. "Putin is creating conditions, and when the West is distracted, he can move. He wants to keep Ukraine under constant strain."
Ukraine has made itself useful to the U.S. in Afghanistan by helping evacuate citizens of Western countries and their local allies, and hosting refugees. Mr. Zelensky met Mr. Biden this month at the White House, but didn't receive public backing for his efforts to secure membership in the North Atlantic Treaty Organization, something Russia fiercely opposes.
Ukraine has also been frustrated by the Biden administration's decision to end attempts to block the Nord Stream 2 pipeline, which could double gas deliveries from Russia to Germany while bypassing an existing route through Ukraine.
Obviously there are questions about how much Biden supports Ukraine, not so much "because of Afghanistan but because of Nord Stream 2," said Andriy Zagorodnyuk, a former Ukrainian defense minister.
The U.S. has committed $2.5 billion to support Ukraine's military since 2014, and announced a further $60 million package ahead of the White House meeting. Ukrainian officials say they recognize NATO membership is unlikely right now, but want the U.S. to send more advanced weapons to counter the threat from Russia. Mr. Biden has said Ukraine has more work to do to enter the alliance, and some European members are against Kyiv's immediate accession.
Ukraine has long feared that Russia could launch an invasion via Belarus, Moscow's closest ally. Ukrainian officials say the security threat has grown more acute since Mr. Lukashenko became more dependent on Moscow after he launched a violent crackdown on opponents who say he stole an election last year.
At a meeting this month, Messrs. Putin and Lukashenko agreed to deepen political and economic integration. Mr. Lukashenko has long resisted allowing Russia to base troops in Belarus, but said nearly half the eight-hour meeting was devoted to security issues.
Belarus said last week that Russia had sent jet fighters to an air base in western Belarus to establish a joint military-training center there.
After the U.S. withdrawal from Afghanistan, some analysts have speculated that Russia could seek to test Mr. Biden's support for other countries, but Ukrainian and Western officials said there were few indications that Russia could use the exercises to launch an invasion. Still, the exercises increase integration between their armed forces and could allow Russia to leave some troops behind in Belarus, perhaps under the guise of military advisers, the officials said.
Belarus is no longer a sovereign state. The border of over 1,000 km is not a neutral or" friendly border anymore," said Mr. Zagorodnyuk, the former defense minister who is now chairman of the Center for Defense Strategies, a Kyiv think tank. "The exercises are about working out logistics to move troops quickly, and this could be used against Ukraine," he said.
The threat from Ukraine's north could prompt it to strengthen its military presence there, thinning forces available to defend the east and south. Russia has retained much of the troops and equipment it gathered near Ukraine's border in spring in place, according to Ukrainian and Western officials.
SOURCE: the wall street journal