REPORTAGE
Dr. Mahmoud Al-Afandi: Russia has given Turkey 6 months to implement the Sochi Agreement.. There is a return to commercial relations between Turkey and the Syrian government under Russian auspices
Ugarit Post: During an exclusive interview with the Secretary-General of the Syrian People's Diplomacy Movement, Dr. Mahmoud Al-Afandi, the Ugarit Post raised many questions about the ambiguity that characterized the results of the recent Putin-Erdogan summit, and whether there are new Russian-Turkish deals that include new Syrian regions.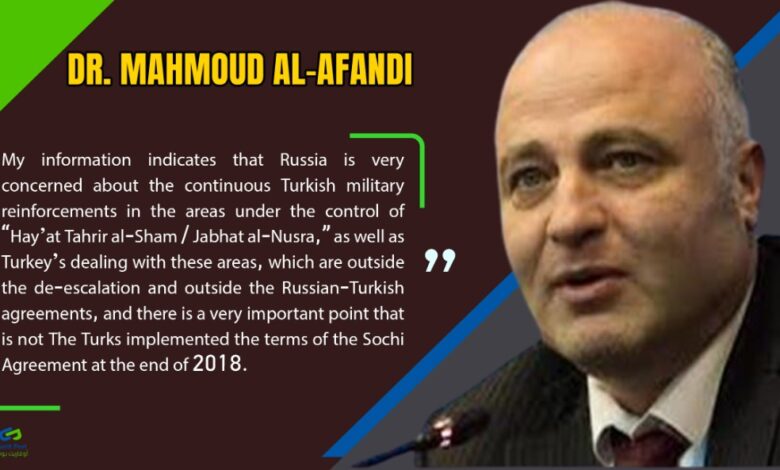 The ambiguity in the results of the summit of the Russian and Turkish presidents is due to the fact that the meeting is based on an attempt to persuade between the two parties, as it is a unique summit of its kind, Turkish-Russian relations are often affected by the personality of both Putin and Erdogan, as the Russian president has stated on many occasions that Erdogan, regardless of his positions, is a flexible and respectable person, At the same time, there are many thorny issues between the two parties that the relevant institutions, such as the Ministry of Defense and Foreign Affairs of the two countries, have not been able to solve, so it is transmitted to the two presidents to find consensual solutions to the outstanding problems through personal meetings.
Are the Kremlin's statements about the necessity of eliminating "terrorists" in Idlib, evidence of Turkey's acceptance of a military operation by the government forces?
My information indicates that Russia is very concerned about the continuous Turkish military reinforcements in the areas under the control of "Hay'at Tahrir al-Sham / Jabhat al-Nusra," as well as Turkey's dealing with these areas, which are outside the de-escalation and outside the Russian-Turkish agreements, and there is a very important point that is not The Turks implemented the terms of the Sochi Agreement at the end of 2018.
 Are there new Russian-Turkish deals that include Syrian regions, or are the consensus between the two parties limited to Idlib governorate?
Russia does not have deals and considers all areas outside the control of the Syrian government to be occupied areas, except for the ones on which agreements have been made until a political settlement is concluded, such as the Peace Spring Agreement between Russia and the Syrian Democratic Forces, which included the SDF's distance of 20 km from the Turkish border, and therefore Russia does not trade in Syrian lands.
Did the Russian and Turkish sides reach, after the meeting, concrete steps related to the Syrian crisis?
According to Russian and Turkish statements, there was a solution to part of the crisis in Syria, and Russia was able to persuade Turkey to start implementing the Sochi Agreement.
There may be future agreements and agreements between Turkey and the Syrian government to restore commercial, not political, relations through the Bab al-Hawa crossing under Russian auspices, which was among the discussions of the Russian and Turkish presidents, especially after the opening of a border crossing with Jordan.