SYRIA NEWS
Turkish Media Face 18 Trials in One Week
In the past week alone, 18 journalists, most of whom work for Kurdish media outlets, were put on trial in Turkey, Voice of America News reported on Friday.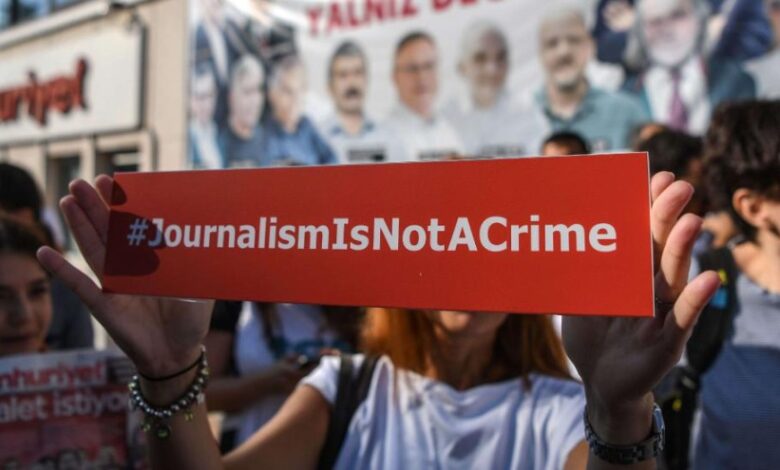 Aside from working for Kurdish media outlets, the vast majority of those on trial are accused of spreading propaganda or belonging to a terrorist organisation. Others are charged with violating Law 2911 on meetings and demonstrations.
VOA noted that media in Turkey that cover meetings are sometimes charged with organising illegal gatherings. Furthermore, in April, the Turkish Interior Ministry decreed that journalists need permits for covering approved protests.
Rights lawyers believe the ruling is aimed at muzzling the press.
"The order is problematic because it only recognises journalists who are given permits by the government to cover protests," Erselan Aktan, a lawyer in Istanbul, told VOA.
"It doesn't consider freelance journalists and those who work for opposition media outlets as journalists and this is against the core of the freedom of expression," he added.
Rusen Takva is one of the journalists on trial this week after he covered a protest calling for Kurdish rights in Van back in January.
One prosecutor said that Takva should be sentenced to 18 years in prison for covering that protest. However, another dropped the case on Tuesday given the lack of evidence.
"It was clear from the beginning that this case was not holding," Takva told VOA. "I was merely doing my job as a journalist. When the original prosecutor was replaced, the new prosecutor concluded that there was no evidence to support the charges against me."
Hayri Demir, who works for multiple outlets including the pro-Kurdish Dicle News Agency, was charged in 2017 of being a member of the outlawed Kurdistan Workers' Party (PKK) group and spreading propaganda for it.
Demir had a memory stick containing images of his assignment in Syria stolen from his home in Ankara.
"Six months after that robbery, the pictures on that card came out in the court as evidence in my case file for my conviction," Demir told VOA.
"My previous telephone conversations with Selahattin Demirtas were also included in my court file as a crime," he added, referring to the jailed co-chair of the pro-Kurdish Peoples' Democratic Party (HDP).
Demir's ninth hearing was on Tuesday and the case is still ongoing. If he is convicted he could be jailed for up to 22 years.
Source: Voice of America