REPORTAGE
Russian strategic expert: Russia respects American interests in Syria, and a dialogue must be held between Damascus and the Kurds
Ugarit Post: Russian strategist Andrei Ontikov said that there is a stalemate in some files of the Syrian crisis, pointing to the necessity of the withdrawal of US forces from Syria in agreement with Russia, stressing that Russia respects American and Kurdish interests, and added that dialogue between the Kurds and Damascus is a condition for resolving the Syrian crisis, and it is necessary to conduct Change in the regime in the future Syria.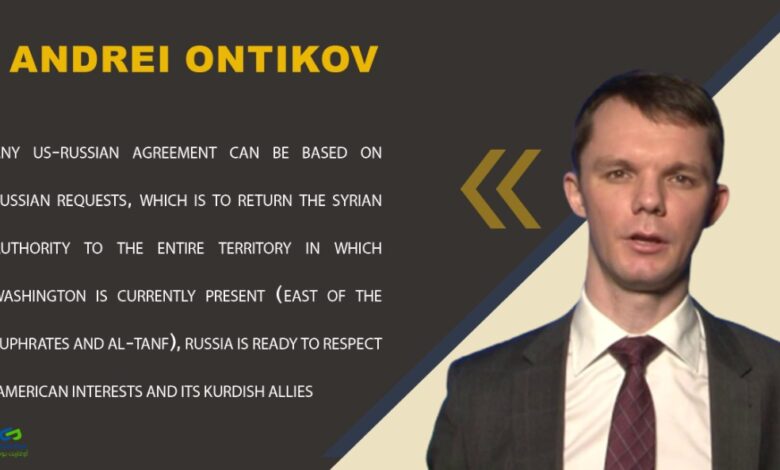 The Russian expert adds, "In one way or another, the Syrian crisis is not frozen. We see from time to time some movements and changes, as we have recently witnessed important developments in Daraa. On the other hand, yes, there is a kind of stagnation in the developments of events in the east of the Euphrates and Idlib, and it is linked to the need to find common points between The concerned parties, between Russia and Turkey and also between Russia and America. The current parties will not make any concessions to find a solution to the Syrian crisis".
As for Russia, it cannot make concessions, but it can understand American and Turkish interests, so I think that the solution to the Syrian issue is linked to the issue of time, according to Ontikov.
Ontikov considered that "any US-Russian agreement can be based on Russian requests, which is to return the Syrian authority to the entire territory in which Washington is currently present (east of the Euphrates and Al-Tanf)," stressing that "Russia is ready to respect American interests and its Kurdish allies."
Andrei Ontikov, noted that "Russia understands US and Turkish interests, but it acts in accordance with international laws that stipulate the need to preserve the sovereignty and territorial integrity of states."
Concerning the fate of foreign forces in Syria, the Russian expert said, "When we talk about foreign forces in general, those forces must withdraw with the resolution of the Syrian crisis, and above all, the forces that are there illegally, and here I am talking about the American and Turkish forces. As for As for the Iranian forces, they must also withdraw with the end of the war."
The Russian strategic expert stressed the need for all foreign forces to withdraw from Syria, including Iranian and Russian, but according to specific conditions, and he excluded the Hmeimim and Tartus bases from any future withdrawals.
On the chances of success of the dialogue between (the internal opposition, the Syrian government and the Autonomous Administration of North and East Syria), Ontikov said, "I believe that this dialogue is one of the main conditions for resolving the Syrian crisis. Russia, for its part, always insists on starting this dialogue, especially between the Syrian government and the Kurds in northeastern Syria."