Uncategorized
Facts and figures.. Drug laboratories invade northern Syria and cross the border
Ugarit post: Recently, many news websites have been buzzing about the large spread of drug-making laboratories in the areas under the control of the pro-Turkish factions. This was confirmed by Brigadier General Ahmed Al-Rahhal during an interview with Al-Jazeera, saying: These factories are spread on a large scale in northern Syria and belong to senior leaders of the opposition factions, He stressed that the city of Afrin and its countryside, specifically in the "Bulbul" district, where there are a large number of factories that also belong to people who hold high positions in the Syrian opposition coalition. Where the military police stopped a shipment destined for Turkish territory, in which they found millions of narcotic pills that had been manufactured in the mountains of Bulbul district in Afrin.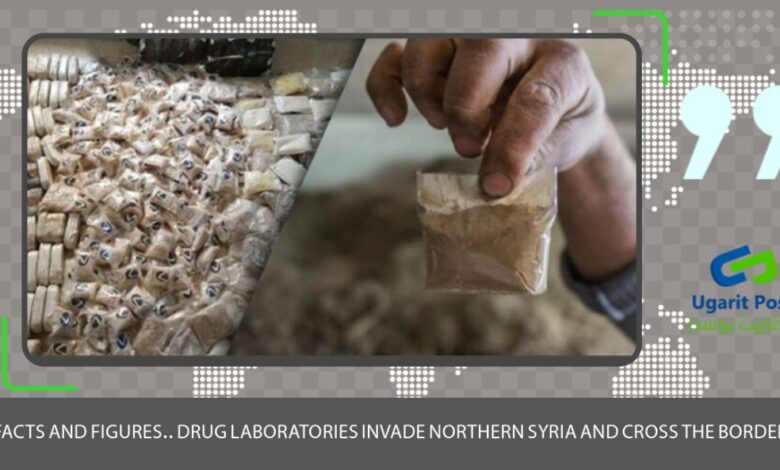 cross-border drug
Several reports also showed that these drugs were directed, as its production begins in several areas in northern Syria, and then some of it is sold in the "local market" and is also transported to Turkish lands and from there to many European and Arab countries, especially Saudi Arabia, which during the last period thwarted many attempts to smuggle pills On its territory, some of the narcotics were sent via parcels coming from Turkey. The Saudi authorities also announced the arrest of a trafficking network, including Syrians. About two months ago, North-Press website published a detailed report in which it talks about the discovery of a drug-making factory belonging to the Hamzah Division, one of the factions of the National Army.
The Syrian Observatory for Human Rights confirmed that the areas under the control of the Turkish forces and the factions loyal to them are witnessing a large spread of the drug industry.
All of this is happening without accountability or oversight, given that those responsible for the drug industry and trade that have spread in an unprecedented way in the regions of northern Syria, are the leaders of the opposition factions, and in clear coordination with the Turkish forces.